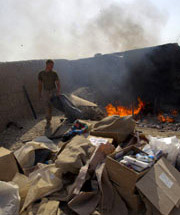 The Veterans Administration (VA) has established a
web site
to provide information about potential exposures from burn pits, medical information and benefits available thought eh VA.
Burn Pits
Information about potential exposure to toxins from burn pits, possible health-related problems and VA benefits
Open air burn pits have been used extensively in the current conflicts in Iraq and Afghanistan to dispose of waste.
Many returning Veterans have expressed health concerns related to their exposure to smoke from burning trash and human waste.
Types of Waste Burned
Waste products include, but are not limited to:
Chemicals (e.g., paints, solvents)
Incomplete combustion by-products
Medical and human waste
Metal/aluminum cans
Munitions and other unexploded ordnance
Petroleum and lubricant products
Plastics and styrofoam
Rubber
Wood waste
Possible Health Problems from Exposure to Toxins
Exposure to specific individual toxins may affect the skin, respiratory system, eyes, liver, kidneys, central nervous system, cardiovascular system, reproductive system, peripheral nervous system, and gastrointestinal tract.
Click here to read more about burn pit exposures in Iraq and Afghanistan.
Click here to read more about burn pit claims for benefits and lawsuits.