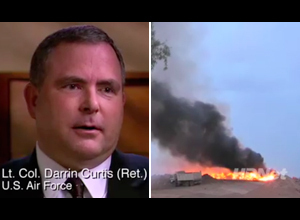 The focus of the program will be the American shoulders who have returned from Iraq and Afghanistan suffering from new diseases and illnesses that were not the direct consequences of armed combat. The program will discuss the alleged exposures to burn pit dust, fumes and other toxic pollution to enormous burn pits that were utilized by government contractors to dispose of waste. Lawsuits are presently pending against these contractors including KBR and Kellogg, Brown and Root.
The diseases reported include:
respiratory disease, chronic cough,
 debilitating headaches, and neurological skin disorders, and cancers. Some deaths have been reported from the alleged exposures to the burning toxic waste.
In a report in the Huffington Post, Lt. Col. Darrin Curtis (Ret.) U.S. Air Force, a bio-environmental engineer, commented on the burn pit at Balad Air Base, "..it was
'amazing that the burn pit has been allowed to operate without restrictions over the past few years with no significant engineering controls put in place.'"